5 Benefits of VoIP Business Office Phone Systems for Smartphone Users
What do you see as soon as you step into your office?
Some employees are busy talking with customers on the desktop, while some are roaming around with a business office phone in their hand. Some are struggling to find ways to answer more calls. To further complicate things, employees are communicating with each other, trying to pass necessary information via instant messaging or video calls.
From afar, the environment looks like everybody is busy working. But the reality is different:
You don't have the slightest idea how many important customers calls you are missing, which directly affects your bottom line. Employees' lost productivity is causing you to lose business.
Is there a solution for this?
Of course, there is!
There is one solution for all your office phone services and communication system issues. This same solution also takes care of your employees' productivity without breaking the bank.
The solution is "VoIP".
Voice-over Internet Protocol (VoIP) is a means of transiting traditional phone calls and phone lines to the Internet. It sends and receives data between two places across the world via an IP connection.
Let's a look at each VoIP benefit, and how they improve your overall business.
Fit All Business Calls Into Your Smartphone
Generally, businesses use a wide range of platforms to communicate with customers and employees. They use more platforms to exchange important information via email and video conferences. Of course, multiple devices ease your communication, but at the same time, they increase complexity, as nobody has a clear idea of which information is coming from which platform.
VoIP cuts through the clutter by fitting all your communication and information exchange processes into your smartphone. Using Wi-Fi to route calls, VoIP turns your smartphone into a virtual phone system at the expense of your existing business internet facilities.
After implementing VoIP, you won't need to stop employees from using their smartphones, as they will be tackling more through their smartphones instead of scrolling through social media. That said, VoIP widely supports the BYOD (Bring Your Own Device) system—a trend that allows employees to use their own device for work.
As per the "Financial Impact of BYOD" study, employees quickly tackle work tasks via smartphone in the heat of the moment while saving 37 minutes per week.
Roam Around the World with Your Business in Your Pocket
No matter where your business location is, no matter if your business is physical or virtual, and no matter if you work with remote employees, VoIP eliminates the compulsion to stay stuck to a desktop phone, while still ensuring you never miss a call.
With its call-forwarding feature, VoIP transfers customers' calls to any available executive roaming around the world. This makes VoIP an ideal choice for companies with multiple locations or offices. In fact, if you are thinking of relocating your business, then rerouting VoIP phone lines won't be an issue for you.
Quadruple Your Productivity
Udemy's 2018 survey revealed that 70% of workers feel distracted due to email checking, social media scrolling, and juggling through multiple devices.
More Distractions = Less Productivity = Business Loss
One of the biggest benefits of VoIP is putting the responsibility of communication in employees' hands. Since employees are addicted to their smartphones, VoIP simply replaces their email-checking habit with a customer-answering habit, which allows them to get more work done and achieve productivity by eliminating the need to use multiple devices.
Here are the VoIP facilities that are turning employees' smartphones into wide business hubs:
Audio calls
Video conferences
Phone call recording for analysis and decision-making
Sending faxes
Sending and receiving SMS messages
Integrating work emails
Sending voicemails to emails
Studies show that employees enjoyed a 34% increase in productivity and saved 58 minutes each day by using a personal device at work.
Give Your Wallet a Break
If you are thinking VoIP must be costly due its infinite benefits, let me put your mind to rest with these VoIP-saving statistics by Finances Online: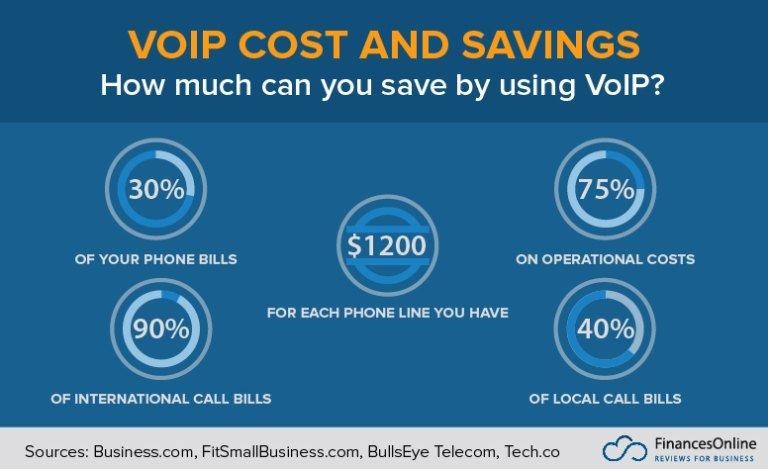 Want to know how VoIP will save you big money? Here you go:
VoIP uses your existing internet connection to transmit calls over data-connected devices, which makes it highly cost-efficient.
Traditional phone lines increase your charges for long-distance calls, while VoIP's international call charges are the same as local charges.
Since everything works via the internet, the cost of upgrades, maintenance, and new lines disappears into thin air.
You don't have to worry about purchasing new equipment when your business' VoIP requirements increase.
Additional savings come from employees' personal device usage, as studies prove that annual cost savings from BYOD policies are around $3K per employee. VoIP is similar to opening a fund account, where employees will also contribute happily.
Future-Proof Your Business 
More and more businesses are adopting VoIP to support remote work culture and their employees' smartphone addiction. Not a single day goes by when the news of consumers ditching landlines hasn't arrived. All this points towards adopting a system that responds well to all modes of communication. VoIP fulfills such requirements and propels the growth of the mobile VoIP market.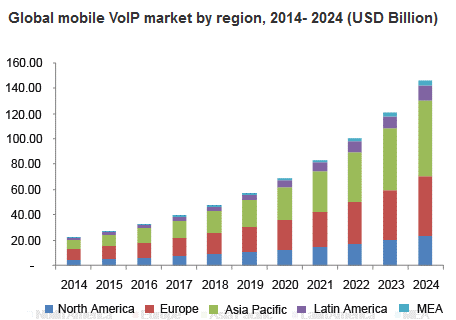 Image Source: Global Market Research Insights
Long story short: VoIP is a surefire way to thrive in the digital age, stay competitive, and prepare your business for rapidly changing future demands.
Ready to Transfer Your Business Phone System to VoIP in Less than a Week?
Oh, yes! It takes less than a week to install VoIP on your entire business phone system and start using it immediately without risking your business phone number or loss of contacts. Everything else remains the same; the only change is how you work better with your business phone system.
If you are looking to integrate VoIP systems and want some advice on how o start, connect with us now. Our best-qualified VoIP suppliers will help you make the best decision for your business.