Work from Anywhere, Anytime, and Always.
Attend customers using laptops, mobile phones, landlines.
Options are limitless.
What is Virtual Phone System?
A virtual office phone system is an internet-based phone system that enables your business to make and receive calls from anywhere using any device including desktop, laptop or mobile. Being a web-based service, a virtual phone system for small business increases your business' efficiency to answer voice calls, video calls, messages, or whichever mode of contact your customers prefer.
Virtual business phone system provides your business a secure line and crystal-clear call quality with the help new generation web applications. It makes virtual phone system is more reliable and flexible compare to traditional systems.
Benefits of Virtual Office Phone System
We don't believe that there's any 'one size fits all' solution.
Unified Communication with Employees
Join conference calls with one another, share data and documents easily, and have access anywhere in the world with virtual phone number.
Save Your Money
Our VoIP phone service provides you with a solution to cut the phone system costs significantly in a year. 
Improve Customer Service
Enhance your overall customer service experience. Not only do we provide you with an easier, faster way of communicating with your employees, but also with your clients.
Easier Telecommunicating
Everything is operated online, which means all your customers or employees need is an internet connection to get in touch with you.
Virtual Phone Number
 Have clients call one local or toll free phone number to reach your business and can be directed to sales team in Chicago, support in New York or after hours calls in India. Manage all phone lines under one online account and one invoice.
Internet Fax
Fax as well as other premium features are offered free of charge with every phone plan. Choose from traditional fax, fax via email or combo fax and stay ahead in business.
Why You Need Virtual Phone System?
You are living in a highly competitive age where it's imperative to offer a seamless communication experience to your customers, employees, and all other stakeholders.
Businesses relying on traditional phone system fail to be available 24×7 to their customers due to long delays, unclear audio quality, sudden disconnected calls, etc. It has an adverse impact on your business's reputation, clientele, and productivity as well.
Studies too have supported this fact:
67% of customers leave the brand due to poor customer service
"No Response" is the key reason why consumers get frustrated and want to leave the company
In such scenarios, a virtual office phone system comes to the rescue by offering robust customer experience and develops long-lasting customer relationships.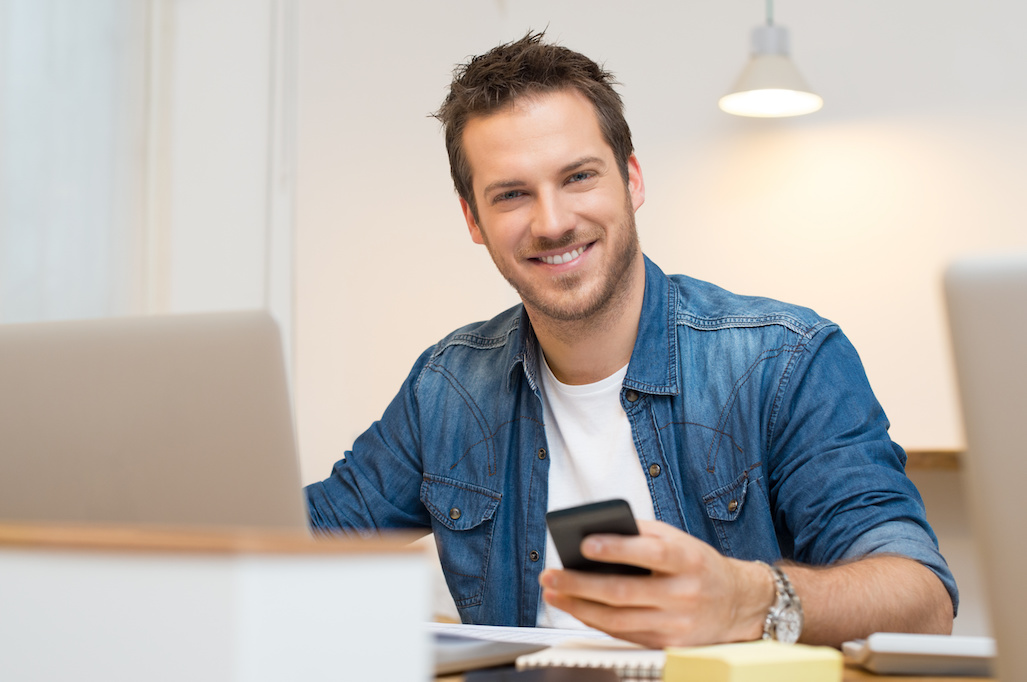 Difference Between On-Premise
and Virtual Phone System
Unlike on-premise systems, a cloud-based virtual business phone system doesn't require hardware to start working, as the entire system takes place on the internet. This saves you from days of waiting and additional maintenance cost. You can begin using virtual phone system as soon as you decide to integrate it into your business.
| | |
| --- | --- |
| On-Premise Phone System | Virtual Phone System |
| Runs on expensive hardware and cables | Runs on the Internet, no hardware cost required |
| Requires installation and maintenance costs | Quick installation over the Internet with zero maintenance |
| International calls are expensive | Minimum cost difference between local and international calls |
| Updates and upgrades consume a lot of time and money | Easy updates, and upgrades in minutes at marginal cost |
| Executives can't remain available for 24×7 as they need to be close to the phone system | Executives remain available for 24×7 even office phone system is close |
| Additional charges for call waiting and forwarding | Call waiting and forwarding are free of cost |
Why Cebod Telecom is Best Virtual Office Phone
System Provider For Your Business?
Tailor-Made Solution- Whether you are a startup, small business or a big enterprise, we offer tailor-made features that fit well with your business and help you save costs from traditional phone systems.
100% Mobility and Flexibility- Our virtual phone system for small business gives your employees full flexibility to work from anywhere at any time from any data-driven device. Our system acts as a productivity booster for your employees.
Secure Phone System-

Cebod Telecom's virtual office phone systems come with unbreakable security measures to protect your data and communication from cyberattacks.
24×7 Support- At any point, if you face issues understanding the system, our technical team remains available 24×7 to help you solve the problem and keep your business running without interruption.
Easy on the Pocket- Our customized plans, with no hidden charges, give you maximum return on investment.
One Stop for Office Phone System, Virtual Phone Number
and SIP Trunking.
Why Should You Use Virtual Phone System
Instead of Skype?
The simple answer is professionalism.
You would use a professional virtual toll-free number and a professional greeting for the same reason that you would buy your own web domain and not use one of the free domains available.
You want to give off the right impression. One of the worst things you can do is curtail your chances from the beginning through using a free option like Skype.
Plus, virtual business phone systems offer what things like Skype can't. You can't take advantage of call screening, multiple toll-free numbers, and making calls when you don't have access to Wi-Fi.
We also offer sip trunking solution for larger businesses and are certified for Microsoft for Skype.
Frequently Asked Questions
Virtual phone service is ideal for ambitious business without the cost.
Is virtual phone system scalable and flexible?
Here at Cebod Telecom we provide a variety of different options for people who want different service levels. Take advantage of call forwarding, call scheduling services or add-on features as needed without paying any extra dime. You can also easily expand the number of toll-free numbers you have associated with your company. Our Phone system is completely scalable and flexible, so all it takes is one call to change your package.
What PBX features are available for virtual phone service?
Every phone package comes with all 50 plus basic and advanced features.
call forwarding, unlimited extensions, call screening
SMS, E-fax, Combo Fax
Voicemail, IVR, Auto Attendant
Professional greetings
Roll over lines, Shared Lines
Many more cloud pbx features are offered with each phone plan.
What is the advantage of voip virtual phone service?
We find that the companies getting the biggest benefits from a virtual phone service are small, new, and growing companies.
The systems are designed for companies that need their own phone systems without needing a dedicated phone system on-site.
The low costs and ease of use are what make them such a hit for small businesses.
If you happen to work on the go or as part of a co-working space, you'll get a lot of benefits from a virtual office phone system.
You'll be able to keep in contact with remote workers and you'll be accessible on the go.
How does a virtual phone system work?
Virtual phone service connects calls within toll-free, local phone numbers and users. Before your phone rings, there's a lot of technological magic that happens. VoIP exists at the core of a business phone system. Phone extensions exist virtually and not as physical lines. You can use any existing business phone numbers or a vanity numbers. From there, it converts your phone calls from analog sound with VoIP codecs to achieve good call quality. VoIP providers set up a network of data centers. In the event of severe weather, communications automatically failover to other servers without missing a beat. Likewise, a virtual phone system doesn't terminate at your building. It exists on the internet. You can forward calls from your office phone to your cell phone with ease. If you're taking time off, you can direct calls to another colleague.
Landlines work much differently. You're confined to wherever the telephone company installs it. Connectivity can only be established over wired connections. You also can't ignore the increasing tolls and monthly fees. VoIP lets you place calls anywhere you have internet access – it works well with a strong Wi-Fi signal.
Virtual phone systems let you and your team take advantage of increased reliability, better call quality, and a wealth of advanced features to work better.
What kind of internet is needed for using virtual office phone system?
Our phone service works with any strong bandwidth internet connection. Along with this phone service for small to mid- size companies, we also provide internet services throughout the USA. You can use your existing internet service to use with Cebod Telecom office business phone service.
How can I get virtual phone number?
We provide one free local or toll free phone number for every phone line purchased.  You can also pay little extra to get a vanity phone number. Have the customer call one business phone number and redirect the call to any department or location or city office as needed.
Why is your business phone system cheaper than others?
We have cut out the middleman and are sharing the profits with you, by providing cheap phone service with high call quality. Our sister company, DIDFORSALE provides sip trunking and local/toll free numbers to other wholesale dealers and companies. We thrive to provide the cheap business phone service cost for small businesses, without ever comprising on quality.
How to buy a virtual phone number?
Register on the Cebod Telecom portal
Add Balance and activate your virtual phone service
Once your service is activated you can request virtual phone numbers
1.Local phone number- These are the numbers based on the local geographic area and are called area codes or rate centers.
2 Toll-free numbers- The phone numbers that start with 800,844,866, 888, and others that allow customers to call free of charge to them
3 Vanity numbers – These are easy to remember toll-free numbers such as 1-800-CEBOD.
keep your existing phone number- You can even bring your own phone number and use it with the virtual phone system
Once your service is active, it's a simple plug-and-play phone service.
Get A Free Quote
One stop shop for all communication need. Take your business to the next level with Cebod Telecom virtual phone system for small, mid and big sized businesses.