Practice Management Software Integration
Choose Cebod Telecom Phone Service to take your dental practice to the next level. Form better relationships with patients and ensure that you spend less time at the front desk and more time doing what you do best.
One Stop Shop for Dental Practices
Relationships
Grow your practice with filling schedules and improving relationships
Phones
Use desktop and mobile phones to manage  dental clinic business smartly
Performance
Improve business efficiency with notifications
Making Patient Calls Smarter than Ever With Pop Up
Whenever one of your patients calls your practice, our dental app will automatically pull information from your practice management software.
If this is an existing patient, the dental app will automatically bring up all of their information.
 Always know who you are talking to, their last appointment details, family history, balance and much more.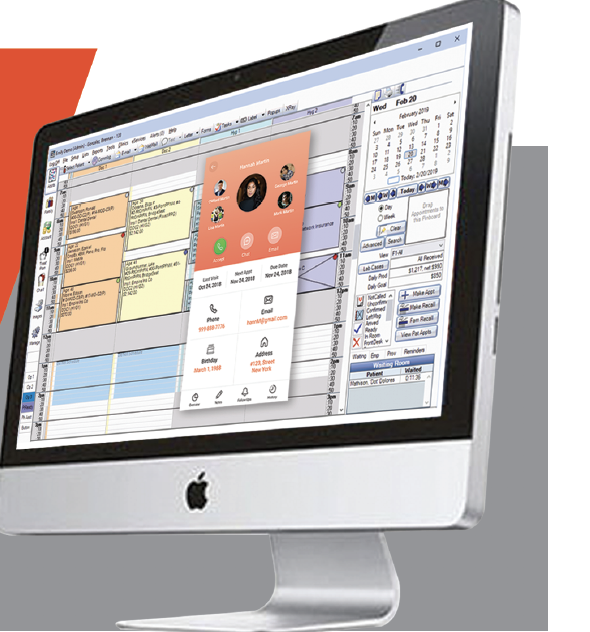 Appointment Scheduling
Make scheduling that next appointment easy.
Your new telecommunications dashboard can be set to automatically send out reminders to schedule a future appointment when the time comes.
For example, if your patient has two dental checkups every year, you can set a reminder to be sent to the patient to schedule an appointment twice per year.
Patients that may require more appointments, you can personalize this reminder system.
Managing Call History
Cebod Telecom Dental App can also provide a full call history.
 Scroll through the calls and see the times, dates, and durations for each call, and take advantage of call filtering to find specific calls from patients, or to pick out those pesky missed calls.
Your practice can analyze its phone activity metrics, seeing how many calls are being made and missed, and when, so that a plan can be made to make sure any missed calls are followed through with.
Easy for your practice to formulate a plan to improve their communication skills and ensure that customers are given a better service.
Appointment Reminder
Stop wasting your time reminding patients of their appointments and getting them to confirm them.
Cebod Telecom Dental App Appointment Reminder feature automatically sends out SMS messages to the patient's phone asking them to confirm by simply replying.
See the status of appointments and whether they've been confirmed with a single glance at your dashboard.
Cost Benefit
Get all 50 plus PBX features, phone service and dental app bundled into one affordable monthly payment. Manage one or multiple office locations with one phone system.
Get in Touch
Schedule a demo to find out more about how Cebod Telecom Voip phone service with dental app can change your practice. 
Call 1-800-839-3817  today !