What Wikipedia Didn't Tell Me About Cloud Phone Services?
Thanks to the rapid advancements of modern technology, communicating with each other despite our location has never been easier or more affordable.
Over the past few years, telephones services and devices have drastically changed in order to keep up with our ever changing world of technology. As a matter of fact, long gone are those bulky land line telephone systems. These days, the best solution for any small-mid business  seems to be the cloud based phone services. My Stance
"The ability to communicate with one another not only keeps us in touch with our loved ones, but it also makes the daily operation of businesses much easier." 
To give you a better understanding of how they operate, here's everything you need to know about cloud phone services that Wikipedia won't tell you.
What Is a Cloud Based Phone System?
Simply put, a cloud based phone system is a telephone service which is delivered through a broadband internet connection. The group of technologies which facilitate these internet based phone systems is known as VoIP (Voice over IP). Since these systems don't use traditional hard wires, this means that lines can be added if need be without interruption to the existing lines.
What are Advantages of Using Cloud Based Phone Service?
Saves Your Business Money – Believe it or not, converting to a cloud based phone service can save your business lots of money. This is because you can consolidate your bills by only having a monthly internet phone service cost instead of having a whole separate bill for just your phone system. Not to mention, you can also save your business money by not having to invest in expensive hardware and installation.
Constant Communication – You or your employees don't have to be at the office or at home to keep in touch because cloud based phone systems only require an internet connection in order to work. This means you have constant access to your contact information and the ability to take calls no matter where you might be. This is my personal favorite( my office travels with me).
Security – You may believe that you or your employee's personal information might be at risk by using an internet based phone system, but that's certainly not the case. In fact, most cloud based phone services offer their customers with ironclad protection while online.
Easy to Use – Business owners may think that transitioning to a cloud based phone service might confuse their employees but this isn't necessarily true. This is because cloud based phone systems are incredibly easy to use. If he or she knows how to get on the internet, they'll definitely be able to use the phone system.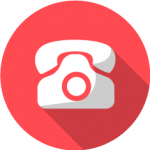 As you can see, there are many benefits of making the switch from a traditional land line system to a cloud based phone system for your business. If you've been thinking about updating the technology used by your business, now's the perfect time to switch to a cloud based phone system. Just keep in mind that it's important to have an idea of how much correspondence within your company is performed over the phone so you can select the appropriate package for your needs.
Any sufficiently advanced technology is equivalent to magic. – Arthur C. Clarke