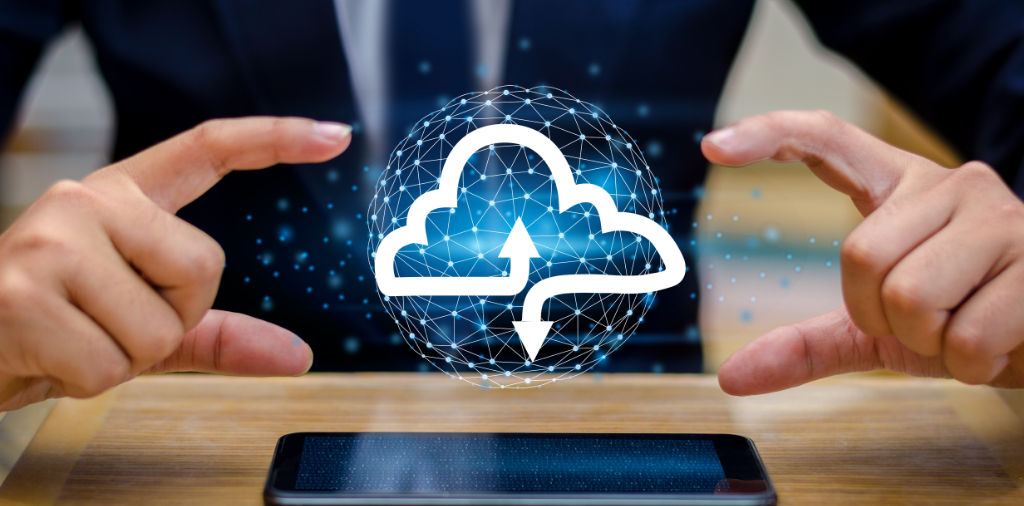 Cebod Telecom vs Nextiva: What's the best business phone system for 2020 and beyond
Beyond doubt, Cebod Telecom and Nextiva are well recommended as the best business phone systems with several amazing features and packages. Both VoIP business phone services are reliable, cost-effective, and flexible. They have great features like unlimited plans for international and domestic calls, automatic call attendant services, and other fantastic business VoIP solutions.
Cebod Telecom is the go-to for the best pricing systems, customized plans, and cheap options for all kinds and sizes of businesses.
Nextiva on the other hand is an option for businesses that agree to long-term plans and phone services.
This post will give an in-depth review of Cebod Telecom and Nextiva and help you determine what the best business phone system is for you in 2020 and beyond.
Cebod Telecom and Nextiva at a Glance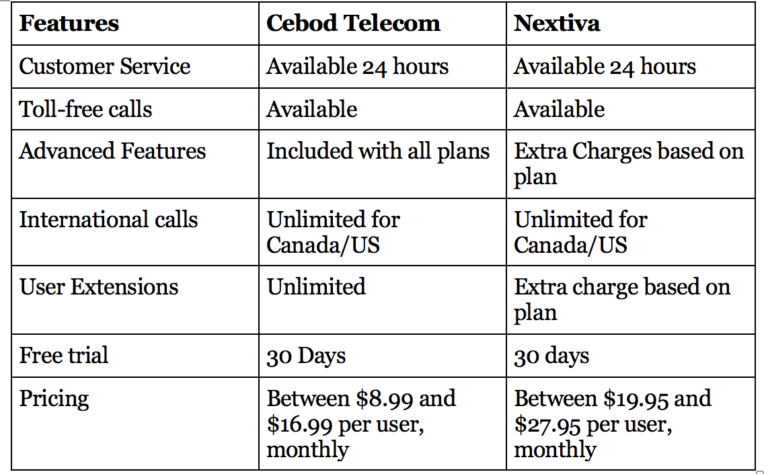 Features of Cebod Telecom and Nextiva
The first step to reviewing both business phone services is to outline their features, compare them, and find out which stands out more.
Cebod Telecom Features
• Collaboration tools:
Cebod Telecom offers collaboration tools like team messaging, conference calls, and document sharing for any device connected to data. These features cover as many participants and connected devices as you want.
• Mobile applications:
If you use a laptop, smartphone, or tablet, you can connect to Cebod telecom's mobile app without issues. It synchronizes perfectly with all your data-connected devices. Its team messaging, group chats and SMS features help you connect with anyone at anytime
• Call management features:
Cebod Telecom has a list of call management features including call waiting, transferring, call recording, and queue, available for every subscription plan. It also offers other extra features, like unlimited SMS messaging and professional message recordings.
One unique feature is its call transfer option that allows you to transfer calls from the app directly to whatever device of your choice.
Nextiva Features
• Team messaging options:
Nextiva mobile and desktop applications have instant messaging and other messaging functions for businesses and teams.
These messaging options are on the same interface as calls and contact. However, a subscription plan is necessary to enjoy this function.
• Call management:
Nextiva offers essential call management functions like call forwarding, transferring and holding calls. It also has mobile app call options and audio conference calls.
• Mobile Apps Connectivity:
Nextiva's mobile application provides features like softphone calls, contacts, and extensions. It achieves these features by synchronizing with mobile devices, tabs, and laptops.
• Toll-free calls:
The basic Nextiva plan offers subscribers 1,000 minutes of toll-free calls.
Cebod Telecom vs Nextiva Plans
Apart from the basic elements of Cebod Telecom and Nextiva we outlined, both business phone systems have various plans holding different services.
We found that Cebod Telecoms offers the best business phone system service with great value based on the fact that their plans are based on the number of phone lines required versus the number of users in the company, and they provide a smooth user experience and features.
Cebod Telecom Plans
Cebod Telecom has four service plans with varying prices available for its customers to choose from. These packages come with the consideration of the number of phone lines, and billing cycles. However, you can leverage 50+ features available with all plans.
• Basic Plan: The basic plan has a flat rate of $16.99 subscription per user every month.
• Pay as you Go (PAYG) Plan: This plan applies to businesses that are particular about what they pay for. They pay for selected features they want and the number of users connecting to the service. PAYG price starts from $8.99, and it is a monthly plan.
• Pro Plan: This plan has a specified number of phone lines that can connect to its monthly subscription. At $12.99 charge per user. Between 10 and 36 phone lines can connect.
• Enterprise Plan: This plan is for phone lines numbering 37 and above. The monthly plan costs $9.99 per user.
Nextiva Plans
Nextiva offers its customers three packages to choose from based on their preferences. Businesses and homeowners can choose the best package based on how many users will use the plan, what billing cycle they prefer, the most preferred agreement length, and feature tier.
• Essential Plan: This is the most basic plan that lasts for one month. The cost of this plan ranges between $19.95 and $37.95.
• Professional Plan: Slightly higher than the essential plan, the professional plan is also a monthly subscription. It ranges between $20.95 and $34.94.
• Enterprise Plan: This one-month subscription costs anywhere from $27.95 to $44.95.
Customer Service: Cebod Telecom vs Nextiva
Cebod Telecom 
Cebod Telecom has 24-hour customer support for. They also have a solution page where you can get answers to questions about the business phone system and their services.
Customers can also make requests by calling, sending emails, or filling out an online form via Cebod Telecom's support system.
Nextiva 
Nextiva offers customers live chat support and help desk ticketing options between 5 am and 6 pm (MST)
Their support page also houses answers to many customer questions about their plans and services, and it is available at all times.
Standards for comparing Cebod Telecom and Nextiva
For this review, we compared Cebod Telecom and Nextiva based on several features like pricing structures, cheap VoIP services, availability of free trials, and benefits of each service to businesses interested in these plans.
To choose the one, consider the following features and how they score against each other.
• Ease of usage
• Customer service
• Call management functions such as call holding, forwarding, transferring, and blocking.
• Mobile app availability and features
• Voicemail features like transcription and voicemail to email
• Conference calling features, software integration, and other additional features
• Service restrictions and limits such as user and international call restrictions
Our Verdict on Cebod Telecoms and Nextiva VoIP business phone service
Both Cebod Telecom and Nextiva offer exquisite services with their business phone plans and solutions. All their business phone solutions stem from their hosted VoIP solutions.
A closer look at both VoIP solution providers shows that Cebod Telecom offers pay per line packages, allowing 20 users to work with 10-15 lines. It saves you from paying extra each time a new user joins. This feature makes Cebod Telecom a unique fit for businesses looking for cheap VoIP plans with customized needs. Additionally, its Cloud PBX ensures 50+ great exclusive features included with all plans.
Aside from the hosted PBX, Cebod Telecom offers team collaborative services, conferencing tools, screen sharing, and other team connection tools.
On the other hand, Nextiva has its strength in its web collaboration tools, including instant messaging feature, and video conferencing.
Businesses that are looking to work from home in 2020 and beyond will find Cebod Telecom's features as the best option to choose from.
Final Words on the best business phone system for 2020 and beyond
From all the features we have considered, both Cebod Telecom and Nextiva have excellent features and great VoIP services for home and businesses.
However, Cebod Telecom offers more solid VoIP business phone services and features. It is a cheap VoIP service for small, growing businesses as it offers affordable plans for teams.
On the other hand, Nextiva also has similar features but its pricing scheme is a major cause of confusion amongst customers and users.