How VoIP Can Boost Sales in 2020
Thinking of switching to VoIP in 2020? Well, the key concern here is that you are still thinking about it, while other businesses are already stepping out of their traditional phone system comfort zone and entering the VoIP world!
VoIP is growing like never before. With the introduction of the latest technologies, like 5G and AI, VoIP is moving faster than ever.
And guess what? It is not growing alone. Businesses that adopt VoIP are taking equal advantage of this upgraded technology that not only helps them save money but also aids them in increasing sales and growing their volume of customers.
According to the latest predictions by Finances Online, here's how much businesses are saving, and what their further expectations from VoIP are: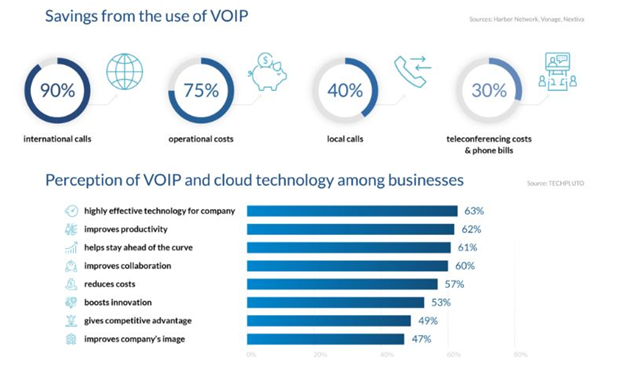 I know it's not enough. What you want is a drastic increase in sales to help your business reach new heights.
You can achieve higher sales figures only when you open multiple channels of communication for your customers. Traditional phone systems limit your business with only one way to reach customers, whereas VoIP offers multiple ways to attract new customers while ensuring your old customers will come back for a long time.
Still scratching your head about how VoIP helps attract customers? Don't worry! This guide will show you the marketing side of VoIP that businesses are already using or intend to use to the fullest in 2020.
7 Ways to Use VoIP as a Sales Booster in 2020
Voice-over Internet Protocol (VoIP) enables your business to make or receive calls over the internet, instead of traditional phone systems. Apart from transforming your communications system, here's how to use VoIP to enhance your marketing strategy and, in turn, increase your volume of customers:
1. Multiply Sales: VoIP integrates customer information, history, and account details from CRM and ERP. That means you have access to customer information in real time when you are talking with them. You know what they purchased in the past, which clues you in on what they are likely to purchase now or in the future.
Based on this information, you can offer products or services that interest them the most. This way, you can multiply sales with existing customers, or you can enhance your relationship with new customers.
2. Be Local, Think Global: For some businesses, local customers are more valuable than global ones, as customers put their trust first in what's available locally. They think that if it's available nearby, they can get the answers to their queries within minutes. To offer local services, you will need a branch in all local areas where you want to sell. This means you will have to expand your business globally, while still representing yourself locally. With VoIP, you don't need to open a separate branch in each area.
VoIP offers virtual phone numbers with any area code you want. These local numbers make customers believe that you are available within their reach, and they can trust you over others. An additional benefit is that local virtual numbers save you from having to pay higher prices for long-distance calls.
3. Gain Customers with Big-Brand Techniques: You will get more customers in your arsenal when you seem like a big brand. VoIP holds the power of IVR, which possesses automated telephony features that interact with callers automatically, gather their information, and route their calls to the recipient, who is familiar with the incoming caller.
When you offer such automated and customized services to your customers, they will think of you as a big brand that treats their customers with extreme care. They will keep coming back to your brand to feel special.
4. Reward Loyal Customers: Bring back old customers by rewarding their loyalty. Again, with the help of CRM tools and VoIP combined, you will know which customers have a consistent purchase record with your business. Dig them out within seconds and offer them special discounts for being your loyal customers. You will keep the flow of customers running with this strategy.
5. Analyze and Repeat Successful Marketing Campaigns: Want to know which marketing campaigns will work and which won't? Using VoIP, you can run multiple marketing campaigns with different virtual numbers, and voila!
The numbers that receive the maximum calls will put the most successful marketing campaigns forward so that you can use them again for maximum benefits in the future. With VoIP, experimentation becomes a piece of cake.
6. Never Miss an Opportunity: Tell me how many calls you miss a day because of weak phone line systems or internet connections. You don't even know how many opportunities you may be missing because of the calls that never reach you. Research shows that in the UK alone, businesses lose over £30 billion each year due to missed calls.
Missed calls equal lost sales. Fortunately, VoIP fills the gap by allowing you to make or receive call at any time, from anywhere, and on any device. Suppose if the particular customer executive is not available at the time the call is placed? Well, VoIP will reroute the call to someone who is available to answer at that moment. Once you install VoIP, you will never miss an opportunity, and you will keep increasing your sales forever.
7. Offer Unbeatable Customer Service: What if I told you that your favorite brand is available to contact 24/7 via any method you want? Let's say you can contact them via voice call, video call, instant message, cellular phone call, or even with a traditional dial-pad phone? The icing on the cake is that you can receive an answer on any of these channels within moments, as though the person were simply waiting for you to come and get your queries solved. Wouldn't this be the only brand you'd want to do business with for a lifetime?
Well, how about offering the same experience to your customers? VoIP assists your business on multiple channels via single platforms. This means customers can contact you from any channel, and you can answer them the same way within seconds.
Stop Thinking, Start Acting
Still thinking? Better start acting instead! Call your VoIP service provider and start enjoying all the benefits it offers. Don't forget to consider VoIP in your upcoming 2020-based marketing strategy.